THE HEROIC BLOG ARCHIVE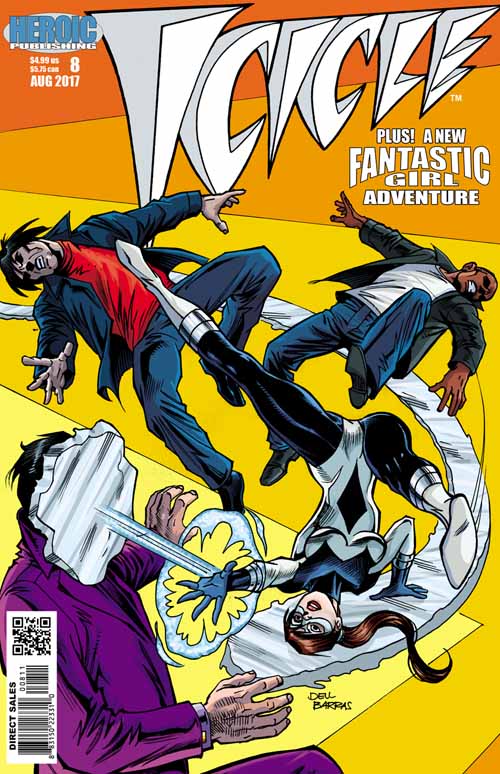 21 May 2017

SURPRISE! The eighth issue of ICICLE will be coming to you even sooner than we'd been expecting. We've had the Icicle story itself for quite a while. What we've been missing is the eight page backup feature that would have starred the irrepressible SKATER. But lo! and behold, we've just received the finished artwork for the eight page FANTASTIC GIRL adventure that had originally been scheduled for Heroic Spotlight #27. So . . . why wait? We shuffled things around a bit. The Skater story's been moved to Icicle #9, we'll put something else in that issue of Heroic Spotlight, and ICICLE fans will get their sneaky little sneak thief just as soon as we get copies back from the printer.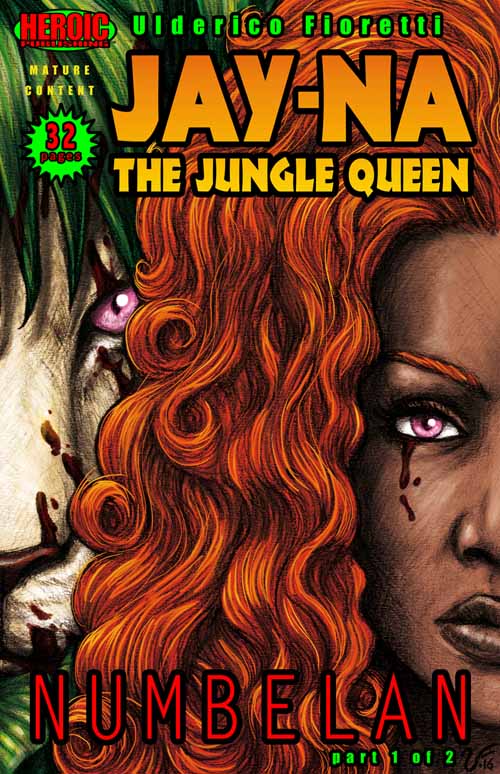 19 March 2017

COMING THIS SUMMER! Ulderico Fioretti is hard at work on a brand-new project featuring none other than JAY-NA THE JUNGLE QUEEN. When she first appeared in League of Champions #15, did you suspect that there was more to Jay-Na than met the eye? Well, you were right. The goddess-spirit of the Jungle Queen is as ancient as the world itself. Now, for the first time, learn the secrets of the origin of Jay-Na in the brilliant two-part graphic novel, Numbelan. The release date hasn't yet been set, but we're expecting Book One to be available in late summer or early autumn. As we get more information, watch for news about this fantastic project here on the Heroic Publishing website.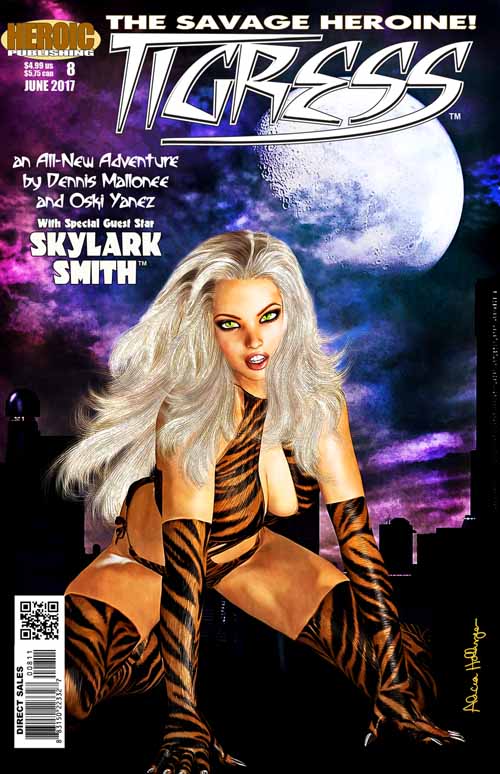 26 February 2017

We have a surprise in store for you! The color work for Tigress #8 is complete, it's almost ready to go to the printer, and we've added it to our schedule for an April release. Visit out Previews page and take a look at what our savage heroine has in store for you.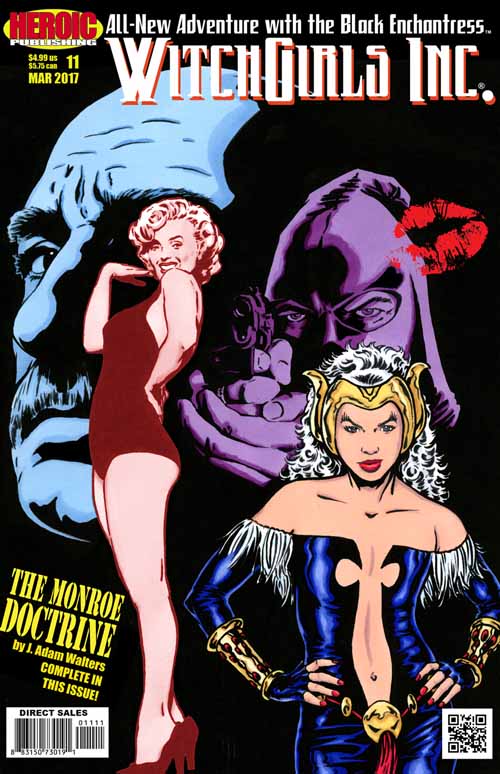 27 January 2017

It's here! Our printer turned this issue around in record time! The all-new 11th issue of WitchGirls Inc is now on sale. Subscription copies will be going out in about a week, along with Champions Adventures #14 when it arrives. But if you're a retailer who wants to have this issue in stock, get in touch with us now. And if you're a fan who hasn't yet placed your order, there's no reason to wait.

12 January 2017

Good news for WitchGirls fans! We've bumped the release date forward a month, which means you won't have to wait until March to see this J Adam Walters tour de force starring the Black Enchantress. It will be on sale on or about February 15. Order your copy today!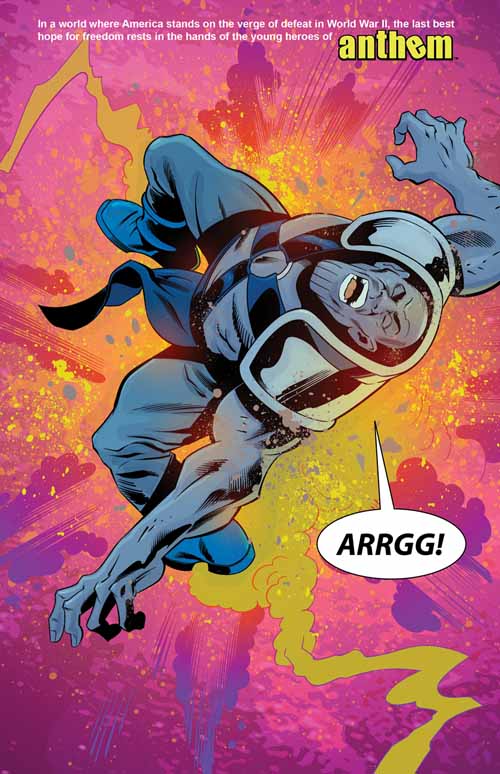 2 January 2017

The long-awaited sixth issue of ANTHEM is in the works! Roy Thomas and Benito Gallego have started putting it together. We're yet sure just when it will appear, but as soon as we know more, you'll know it too.

1 January 2017

Happy New Year everyone! We hope your Christmases went well. Stick with us this year. There's a whole bunch of new stuff in the works. We'll just have to see how much of it we can get out there.

14 December 2016

The Flare/Psyche crossover issues are here! Flare #45 and Psyche #5 are now on sale! Order these two great issues today!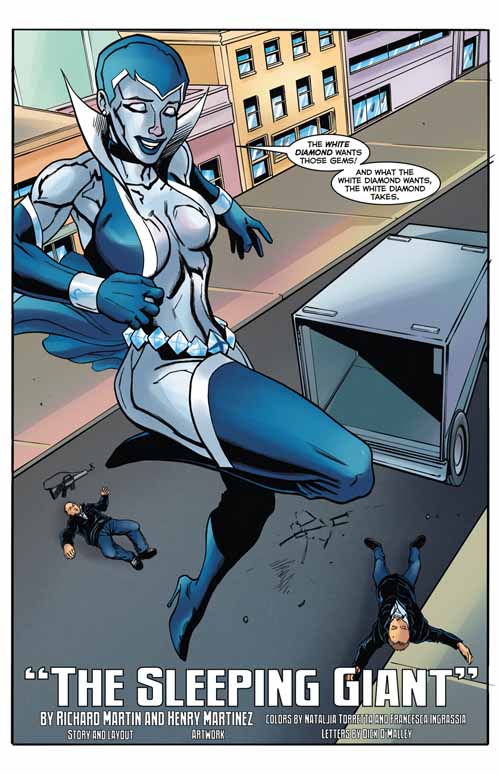 11 December 2016

The LIBERTY GIRL is on her way! CHRIS MARRINAN has stepped up to the challenge of drawing a new series of adventures starring America's bronze goddess of freedom! Our tentative target date for the release of Liberty Girl #5 is July 4, 2017. Although we may not be able to meet that deadline, we'll certainly give it our best shot.


4 December 2016

BIG NEWS! Ulderico Fioretti is ready to start working on a pair of full-scale graphic novels featuring the true, untold story of the strange land of Numbelan, and the origins of JAY-NA THE JUNGLE QUEEN! If, while reading the saga of the Chaos Lords in recent issues of League of Champions, you got a sense that there's quite a bit more to Jay-Na than meets the eye, you were absolutely right. We haven't yet set a release date, but as soon as we have something definite we'll share it with you.

14 November 2016

We didn't plan it this way, but December is going to be Flare/Psyche crossover month! While our shining goddess of the light is making a guest appearance in Psyche the Occult Detective #5, our beautiful occult detective will be returning the favor in Flare #45. Sometimes things just work out. Visit our back issue page and place advance orders for these two great issues today!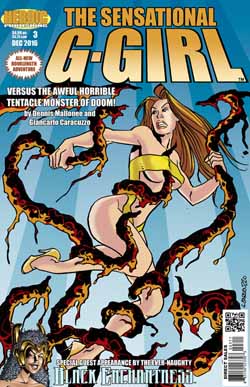 25 October 2016

The third issue of Sensational G-Girl has arrived! They came early from our printer, along with copies of Heroic Spotlight #25. And since there's no reason to keep you waiting, subscription copies have already gone out. If you aren't a subscriber, just visit our Previews page and place your order today!

26 September 2016

Our troubles are your treat! In order to deal with deadline problems, we've had to reschedule a few stories. And that means Champions #64 will feature THE ORIGIN OF THE NEMESIS GIRL! The secret of how Jamie Jensen went from being a seemingly normal young woman to a six-foot superstrong heroine is at last about to be revealed.

3 September 2016

Good news for fans of the Huntsman! The super-sized first issue of THE HUNTSMAN has arrived early! So instead of having to wait until October, we're sending subscription copies out today. This issue includes a retelling of the Huntsman's origin, along with a bonus tale that sets the stage for next issue's crossover with ETERNITY SMITH.

25 August 2016

It had to happen! Relive the classic confrontation between our teenaged titans of the tempest, as Blue Bolt and Sparkplug face off against each other in the pages of Heroic Spotlight #24, now on sale!

7 August 2016

Physical copies of the fourth issue of Psyche the Occult Detective are now available! The digital edition's been available from our various digital distributors for a while, but we hadn't had actual physical copies. Now we do! Subscription copies have already been sent out. If you haven't yet ordered your copy, do it today!

12 July 2016

We should mention that copies of both Flare #44 and Tigress #7 have arrived. If you haven't already ordered these brand-new issues, now would be an excellent time to do that.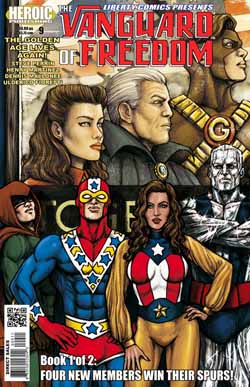 10 July 2016

We may have missed it this year, but there's a July 4 celebration heading your way in 2017 when the LIBERTY GIRL returns to a regular quarterly publishing schedule. On top of that, she'll be joining the legendary VANGUARD OF FREEDOM that same month in the 9th issue of Liberty Comics. And in August, she'll team up with FLARE and the SENSATIONAL G-GIRL in the very first super-sized LIBERTY GIRL ANNUAL. It's a long time to wait, but we promise the results will be well worth it.

2 July 2016

THE HUNTSMAN is returning to his own magazine! The first super-sized 52-page issue will appear in October, reprinting the first two chapters of the three-part origin of the Huntsman, plus a classic tale from the pages of ETERNITY SMITH that sets the stage for a brand-new crossover adventure in issue #2! We haven't yet decided on the artist, but writer Steve Perrin is already hard at work on developing the plot for this first-ever meeting between the leader of the League of Champions and our heroic guardian of the stream of time.

1 June 2016

It's June! And we want to thank all of Billi Jayne's fans for making the first two issues of Sensational G-Girl #2 such a rousing success. When the digital edition of Sensational G-Girl #1 was released, we had our biggest week of sales ever. Moreover, sales on that issue have continued steadily. We were also surprised to receive copies of issue #2 so early. They really shouldn't have arrived until toward the end of this month. But they are here, so you can place your order today. As far as future issues go, there will be a bit of a gap. Our talented team of G-Girl artists is hard at work on issues #3, 4, and 5, and we will be releasing issue #3 as soon as possible, but it isn't ready yet. What we can promise you right now is that it won't be any later than December. So hang tight. There is more of Billi Jayne on the way.

13 May 2016

They're here! Sensational G-Girl #2 and the super-sized Britannia #1 have arrived from our printer. The second issue of Sensational G-Girl features two brand-new adventures of America's Superhero Sweetheart. And Britannia #1 presents all five previously published adventures of the Lion of Britain, in full color, including several new pages of story. These are two comic books you won't want to miss. Order your copies today!

30 April 2016

The She-Bat is back! MURCIELAGA SHE-BAT #16 is finally, firmly on the schedule for an October release. This issue features part one of the origin of Murcielaga, and is not to be missed!

7 April 2016

Heroic Spotlight #23 is here! In addition to Tim Burgard's classic two-part KNIGHTSHADE adventure, there's a brand-new FANTASTIC GIRL mini-adventure. Subscription copies will be going out tomorrow. If you haven't already ordered it, hop on over to our previews page and do the deed.

4 April 2016

WOW! Just . . . WOW! The digital edition of Sensational G-Girl #1 went up on ComiXology last Wednesday, and through Saturday (in just four days!) gave us our biggest week ever, obliterating our previous sales record, generating five times the revenue we've seen in any other ComiXology week! And on DriveThruComics, it went up on Saturday, immediately grabbed the #1 hot seller slot, and has been holding that ever since. Thanks so much to all the G-Girl's wonderful fans, old and new! Now let's get that second issue out there asap!

31 March 2016

BRITANNIA is at the printer! All five published adventures of the Lion of Britain are coming your way in color in a super-sized 52-page volume that will go on sale in early April. Reserve your copy today!

24 March 2016

Did we mention that Sensational G-Girl #1 and Flare #43 have arrived from our printer? The first issue of the G-Girl's very own comic book is a super-sized 52-page book featuring five adventures (including a guest appearance by Flare). And the new Flare issue features a showdown between the villainous Steel Shrike and the Flare Crew! If you haven't yet ordered these excellent new comic books, go ahead and place your order today!

11 March 2016

On the topic of Kickstarts, artist GIANCARLO CARACUZZO has one running right now! As of this moment, he's about 60% of the way there, and could really use your help. Take a look at it here: https://www.kickstarter.com/projects/376367117/simon-blood-the-seventh-moon-volume-i

1 March 2016

The ALTER EGO trade paperback is the deal of the day at DriveThru Comics! Today only, get a digital download of the entire book for only $2.69. http://http://www.drivethrucomics.com/product/12314/Alter-Ego-The-Graphic-Novel

22 February 2016

Sadly, the "Against the Axis" ICONS rpg project that our upcoming Vanguard of Freedom issue of Liberty Comics is tied to failed to get funded on Kickstarter. Stay tuned. As soon as we know the status of that project, we'll be able to set a new release date for the Vanguard book.

20 February 2016

The SPARKPLUG trade paperback is the deal of the day at DriveThru Comics! Today only, get a digital download of the entire book for only $2.25. http://www.drivethrucomics.com/product/88359/Sparkplug-Trade-Paperback-Volume-1

16 February 2016

Something you'll want to take a look at is the new comic book sales site at www.hipcomic.com. It went live toward the end of January, and is already starting to see a good amount of traffic. With lower fees than eBay, we suspect it's going to be a very attractive option for people who have comics related material to sell.

23 January 2016

The G-Girl is at the printer! The first issue of Sensational G-Girl is complete and ready to go to press! It's a super-sized 52-page issue feature five stories! If you haven't already reserved a copy, put your order in today!

31 December 2015

Copies of Black Enchantress #4 have arrived! League of Champions #16 is at the printer! And we're only three pages of coloring away from having Sensational G-Girl #1 ready to go to press!

26 December 2015

We hope you and yours had a merry Christmas. And all of us here at Heroic Publishing are looking forward to a wonderful new year.

5 December 2015

The verdict is in! All four of the truly super heroines we've been featuring in the pages of Champions are ready to star in their very own comic book titles! Brand-new issues of Sensational G-Girl, Icicle, Tigress, and Sparkplug are on tap for 2016! And if you're wondering what's going to happen with the Champions comic book, take a look at our newsletter and see!

2 December 2015

Black Enchantress #4 is at the printer! Place an order and reserve your copy today!

29 November 2015

Our Progress Reports page is up and running! It's still in its rudimentary stage, which means we'll be adding features to it, but right now you can see how far along we are with each of the next 10 titles we'll be publishing. For those of you who'd like to help move each project along with financial support, there's a Donation button. Do that in any amount, and we'll send you something special by way of thanks. To get there, click on the "Updates" link in the "News" dropdown from the navbar above, or just go to www.heroicmultiverse.com/heroicpub/update.

25 November 2015

Sometime this weekend, we'll be launching a new feature on the Heroic Publishing website. Once it's fully implemented, you'll be able to see Progress Reports for upcoming issues of all our Heroic Publishing titles. We'll tell you how far along we are with the stories, artwork, coloring, and lettering, which issues are ready to go to the printer, when they're expected to go to the printer, and when they're expected to go on sale. And in most cases, we'll give you some sample pages to look at! Watch for it. And when it's up, please let us know how useful you think it's going to be.

9 November 2015

A lot of progress this past weekend. The conclusion to the "Steel Shrike" story that will appear in Flare #43 has been drawn, scripted, and sent out for coloring. The four-page Fantastic Girl mini-adventure that will appear in Heroic Spotlight #23 is drawn, scripted, and ready for coloring. The bonus Spiderbaby adventure that will appear in Sensational G-Girl #1 is colored and ready for lettering. There are only three more pages of artwork to be finished for League of Champions #16. And Black Enchantress #4 is now completely laid out, and ready for our printer. What we're trying to do is get ahead of schedule, so that when 2016 gets here we'll be able to roll new comics out on a much more regular schedule.

23 October 2015

The LIBERTY GIRL has her own brand-new website! It's still a work in progress, but visit her at www.liberty-girl.com and let us know what you think!

21 October 2015

It's ready! The fourth issue of Black Enchantress is about to go to press! Also ready to go are the third super-sized issue of Psyche the Occult Detective and the Flare: Conflict trade paperback!

3 October 2015

Only one more page left to go! And Gordon Purcell is hard at work on it. As soon as it's here, Black Enchantress #4 will be sent to the printer. Right now, we're looking at an on-sale date of late November or early December.

28 September 2015

Billi Jayne has a new home page! We're gearing up for a February release of the super-sized first issue of The Sensational G-Girl, and in anticipation of that we've launched a brand-new look for the G-Girl's website at www.heroicmultiverse.com/ggirl. Take a look, and let us know what features you'd like us to add. We're still in the process of building it, and your input will be most welcome.

25 September 2015

Have you noticed? We're preparing brand-new editions of classic Heroic titles. In addition to color versions of various titles that back in the 1990s were published in black and white, we're also putting together new editions of titles from the 1980s. The goal here is to keep in print, in one form or another, everything Heroic Publishing has ever published! That means new editions are on the horizon of the earliest issues of Flare and Champions, complete with a few added surprise bonus features! Check out our Previews page. If you want copies of the new editions, we'll be more than happy to send them your way.


8 September 2015

Mark Beachum just finished a beautiful Flare piece. If you'd like to purchase the original art, you can place a bid on eBay here: http://www.ebay.com/itm/371432971028. The auction closes on September 17. But even if you don't win that, don't despair. We're about to launch series of posters available featuring high quality reproductions of Mark's classic Flare illos. As soon as that's ready to go, we'll let you know.

4 September 2015

Our apologies for the snafu last Monday, when our website went down during the last several hours of our end-of-August sale. Our web hosting company assures us that unscheduled server migrations won't be happening again, but we still have an obligation to make up for it. So for the benefit of anyone who wanted to take advantage of that sale but couldn't (and for anyone else who might be interested in doing so) we're going to do it again this weekend. From now through the end of Labor Day, visit our back issue page and get 15% off the regular price of each and every Heroic back issue!

24 August 2015

Today's words of wisdom from the Sensational G-Girl: "Evidently, there are some giant gorillas who don't like being referred to as monkeys."

19 August 2015

I should add that copies of these new editions of various classic Heroic titles can be purchased not only here on the Heroic Publishing website, but at www.IndyPlanet.com

19 August 2015

We're also preparing new editions of the early issues of FLARE! The reason is that we're running low on our inventory of titles from the 1980s and 1990s, and replacement copies are becoming more and more difficult to find. But we've always wanted to keep every Heroic Publishing back issue available for new readers for as long as we possibly can. Trade paperback collections are a help; they do make the stories available in a different format. But the only long-term solution to the question of what to do when we run out of copies of, say Flare #1, is to have a brand-new edition ready to go.

1 August 2015

Welcome to August! The big news this month is that the original CHAMPIONS mini-series is coming back in a brand-new edition! Starting in October, you'll be able to see the very first publshed adventure of Flare and the League of Champions as they take on the threat of Dark Malice, DEMON, and the sinister Demonmaster. It's a six-part series, with issues #3 and #4 to be released in November, issues #5 and #6 in December. 22 July 2015

We've just sent the second issue of Psyche the Occult Detective to our printer. This is an ongoing super-sized 52-page comic book series that will start with color versions of Psyche's classic adventures, then shift into new material. Catch up on the history of our beautiful scarlet-tressed adventurer by putting in an advance order for issue #2 today!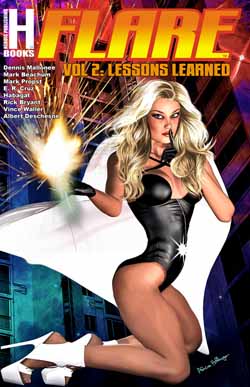 12 July 2015

There's a brand-new FLARE trade paperback coming your way. Flare: Lessons Learned is a 112-page volume featuring her classics adventures from issues #1-4 from her second comic book series. Along with a magnificent cover by Alicia Hollinger, the stories in this volume include her first confrontation with the invincible Thugmaster and the Blonde Bombshell, guest appearances by Lady Arcane and the Galloping Galooper, and a goofy encounter with the fabulous Flying Fox. There's also some wonderful artwork by Mark Beachum, Mark Propst, E. R. Cruz, Rick Bryant, Vince Waller, Albert Deschesne, and Habagat.

Yes, advance copies can be ordered right now. Just visit the Flare: Lessons Learned preview page.

5 July 2015

I hope everyone had a joyous 4th of July. And I hope that Liberty still lives in the hearts of the American people.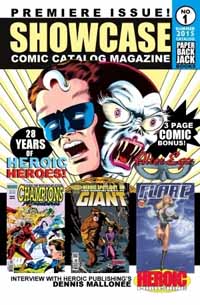 29 June 2015

We're featured this month in the first issue of the new comics news magazine, COMIC CATALOG! Check it out at the Comic Catalog website, http://www.comiccatalog.net

24 June 2015

Champions #63, Champions Adventures #13, and Liberty Comics #8 have all arrived from our printer. This is a wonderful set of issues, featuring a clash between Sparkplug and Icicle plus a brand-new Sensational G-Girl adventure (Champions), a classic adventure of the Huntsman plus a tale of the shape-shifting Sylph (Champions Adventures), and the true story of the origin of the Golden Warrior (Liberty Comics). Subscription copies will be sent out this weekend. We do have more copies on hand, and there's still time to order them!

13 June 2015

We've found our artist for the tale of the original Giant currently scheduled to appear in Sensational G-Girl #1. Jim Webb has stepped up to take on the assignment. You've seen Jim's work in various issues of Champions Adventures. And he has a G-Girl story he's plotting and drawing himself on tap for Champions #64.

I should mention that this would be a good time to lock in a Global Subscription. Do it quickly, and you'll get that first issue of Sensational G-Girl as part of the package, and pay only $4.50 for a comic book with a cover price of $9.50. That's a savings of more than fifty percent, with free shipping too!

11 June 2015

Steve Perrin just delievered the plot for the tale of the original Giant that we're hoping to have ready in time for the first issue of Sensational G-Girl. It takes place in Alexandria, right after the origins of Giant and Dark Malice, and will also feature an appearance by the young Doctor Arcane. Now we need to find the right artist to get cracking on it . . .

6 June 2015

We have the artwork, and I just finished scripting the lead story for Flare #44. I think you'll like it! When naughty Nikki Caldwell (aka Lady Darkon) takes it into her head that Brother Basilisk might be a good weapon to use against Flare, things don't go exactly according to plan. We're hoping to get it ready in time for a December release. And it does feature guest appearances by Doctor Arcane and the Black Enchantress.

3 June 2015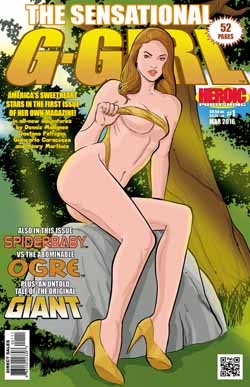 It's official! Sensational G-Girl #1 is scheduled for an October release! And if all goes according to plan, it's going to be a super-sized 52-page comic book featuring four complete stories! In addition to a 24-page adventure drawn by Gaetano Petrigno (who also did the wonderful cover you can see to the right), there'll be a four-page "All About the G-Girl" featurette with artwork by Giancarlo Caracuzzo, an all-new Spiderbaby story by Terrance Griep, Mauro Mandalari, and Daniele Nicotram and (we hope) an untold tale of the original Giant by Steve Perrin and Henry Martinez. The Giant tale is the iffy one. But if by some chance it isn't ready in time, we do have a back-up plan.

This comic book has been a long time in coming, and the end result isn't quite what we originally envisioned, but as first issues go, we think the first issue of Sensational G-Girl is going to be an instant classic.

And the origin story? That's still in the works. And when it's ready, it will be featured in the first Sensational G-Girl Special.

31 May 2015

Champions Adventures #13 is indeed now at the printer. I'm particularly pleased with the new eight-page story in this issue that features a good chunk of backstory about the shape-shifting Sylph. We've met her before; it was she who trained Flare's evil brother Philip. And she will be playing a part in Flare's upcoming "Challenge of the Gods" storyline, a prologue to which actually appeared way back in Flare Annual #3.

29 May 2015

Icicle #7 and Psyche #1 have just shipped! We'll have copies on hand early next week.

28 May 2015

Okay, okay. I've never been very good at doing this sort of thing on any kind of regular basis, but I've been pressured by Heroic Publishing's veep to start a blog, idea being that this is the best way to keep everyone up to speed on current events. So I'll give it a try. We'll keep half a dozen or so of the most recent posts here on the home page, and at some point move the older ones onto a page of their own.

As far as news goes, Psyche #1, Icicle #7, Liberty Comics #8, and Champions #63 are all at the printer. Champions Adventures #13 is also ready to go to press, and will most likely be sent out to our printer this weekend.

For those of you who've been asking, FLARE will indeed be returning to a regular publication schedule. We hope bimonthly, but at the very least quarterly. Dell Barras is hard at work on the story for issue #43, Giancarlo Caracuzzo is almost finished with the story that will appear in issue #44, and Gordon Purcell is champing at the bit to get cracking on Flare #45 and beyond (but first he has to finish the artwork for Black Enchantress #4).

Unabashed plug: For those of you who haven't yet done it, this would be a great time to get a Global Subscription. At 22 issues for only $99, with free shipping, a Global Subscription is a wonderful bargain, all the more so because a Global Subscription includes super-sized issues at no extra cost. Issues of Psyche, and Sensational G-Girl #1 will, for example, be 52-page comics with cover prices of $9.50. But with a Global Subscription you'll be able to get them for only $4.50 each!

I'll try to stay on top of this, and post again to let you know exactly when Champions Adventures #13 does go to the printer.