THE HEROIC BLOG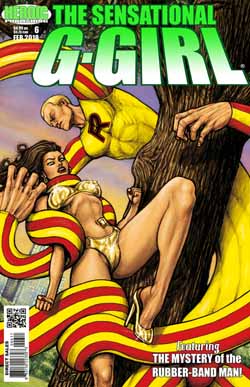 14 January 2018

SENSATIONAL G-GiRL #6 is now officially on sale! In the sixth issue of Sensational G-Girl, Billi Jayne meets the remarkably stretchy RUBBER-BAND MAN, by David Berge and James Webb. Also in this issue, "The Journal of Billi Jayne," by Dennis Mallonee and Gordon Purcell. And the cover is by Ulderico Fioretti.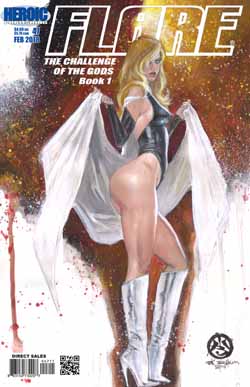 10 January 2018

FLARE #47 is now officially on sale! This is the issue that features Book One of the 13-part "Challenge of the Gods" storyline, in which Flare and the goddesses of Olympus compete to determine who will become queen of the gods. This epic adventure will cross over into multiple Heroic Publishing titles, including Black Enchantress, Champions, and Heroic Spotlight. Get in on it at the beginning and order your copy of FLARE #47 today.

26 December 2017

Another Christmas surprise! PAUL ABRAMS has just offered two new rewards for our Giant/Nemesis Girl/Fantastic Girl kickstarter. He's getting ready to do two full-color 11" x 17" acrylic paintings, one each of the Nemesis Girl and the Fantastic Girl posing naughtily.

This is the Kickstarter for Book Two of the "Challenge of the Gods" storyline. Check it out here:

https://www.kickstarter.com/projects/346915533/challenge-of-the-gods-book-2-giant-and-the-fantast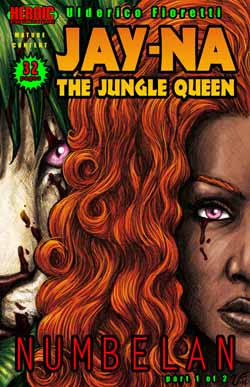 25 December 2017

We have a wonderful Christmas surprise for you! The digital edition of Ulderico Fioretti's Jay-Na the Jungle Queen: Numbelan Book One is now available in both English and Italian on the DriveThruComics.com web site.

http://www.drivethrucomics.com/product/229662/JayNa-the-Jungle-Queen-Numbelan-Book-One?cPath=614_29332

http://www.drivethrucomics.com/product/229670/JayNa-the-Jungle-Queen-Numbelan-Book-One-Italian?cPath=614_29332

Numbelan, the legendary kingdom of animals, is about to disappear by the hand of the terrible Hunter, who knows of an ancient legend which states that the blood of these creatures grants enormous power and the ability to transcend death. It is the Hunter's greed for immortality that that drives him.

Now, only two magical beasts remain: the huge lion-king Gayde and his queen Jay-Na, who are helped by the beautiful shaman Zoraya and her faithful disciple Basu.

These factions are at war, and everything has become uncertain, because the Hunter's depredations have opened the Oblivion Door in Numbelan, and the King of Chaos has risen.

Out of the pages of League of Champions, and into her own magazine, Jay-Na the Jungle Queen stars in Book 1 of a 2-part adventure by Ulderico Fioretti that reveals her true origin in the mystical land of Numbelan.

11 December 2017

Heartfelt thanks to everyone who made the FLARE and G-GIRL Kickstarters a success. Copies of both Flare #47 and Sensational G-Girl #6 were received from our printer much earlier than expected, which enabled us to start sending out rewards to supporters right away. The Flare rewards are complete. The G-Girl rewards are almost complete, with only a few pieces of original artwork remaining to be delivered. Please keep your eyes open. Kickstarters for the Black Enchantress and Chapter Two of "The Challenge of the Gods" will be coming soon.

25 November 2017

Only two days left on Billi Jayne's Kickstarter! There are still a bunch of great rewards to choose from, including (as of this moment) one remaining copy of the limited edition version of Sensational G-Girl #1. So even if you can't make a pledge, please spread the word about the G-Girl Kickstarter far and wide on social media.

21 November 2017

Thanks to all her supporters on Kickstarter, FLARE #47 is at the printer! We should have copies ready to go out in time for Christmas. And with only a few days to go on the G-Girl Kickstarter, any help Billi Jayne's fans can give spreading the word on social media will be greatly appreciated.

11 November 2017

Add LUIS RIVERA to the list of G-Girl artists offering original art as rewards for the G-Girl Kickstarter. Luis has created four original G-Girl drawings on 7" x 9" Bristol board, available on a first-pledged first-choice basis at the $60 level.

9 November 2017

HENRY MARTINEZ has just offered two new reward options for the G-Girl Kickstarter. At the $40 level, an original ACEO drawing on 2.5" x 3.5" card. At the $150 dollar level a full-sized drawing on 11" x 17" comic book art board. It's a wonderful opportunity to fans of the G-Girl to get some original G-Girl art!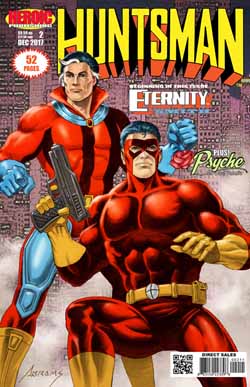 7 November 2017

The second super-sized 52-page issue of THE HUNTSMAN is now on sale. This issue features the classic conclusion to the three-part "Origin of the Huntsman," PLUS for the first time in color part one of the Huntsman/Psyche crossover "The Case of the Living Dead Man," PLUS a classic tale of the time-traveling hero ETERNITY SMITH.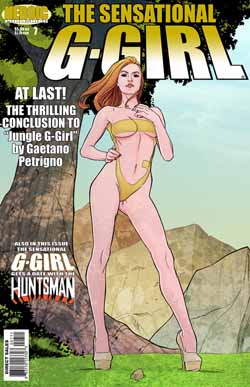 6 November 2017

Wow! This is so cool! On the heels of the Flare KickStarter, we set up one for our Sensational G-Girl, and it reached its goal on DAY ONE, even before we could start telling everyone about it. Now, with that totally unexpected early success under our belt, we're looking toward reaching a stretch goal for Sensational G-Girl #7. You can see a cover mockup for that issue just to the right. And Billi Jayne can definitely use your help with this. So even if you can't make a pledge, please spread the word far and wide on social media. The Sensational G-Girl Kickstarter is here: www.kickstarter.com/projects/346915533/here-comes-the-sensational-g-girl-teenaged-tg-hero


BLOG ARCHIVE

NOW ON SALE


COMING SOON


Support Billi Jayne on Patreon, and get exclusive access to a special G-Girl Preview Page!
---
THE JANUARY
NEWSLETTER IS HERE!
Find out what's on tap in the months ahead for your favorite Heroic Publishing titles and characters.
---
THIS WEEK ON