THE HEROIC BLOG
13 May 2016

They're here! Sensational G-Girl #2 and the super-sized Britannia #1 have arrived from our printer. The second issue of Sensational G-Girl features two brand-new adventures of America's Superhero Sweetheart. And Britannia #1 presents all five previously published adventures of the Lion of Britain, in full color, including several new pages of story. These are two comic books you won't want to miss. Order your copies today!

30 April 2016

The She-Bat is back! MURCIELAGA SHE-BAT #16 is finally, firmly on the schedule for an October release. This issue features part one of the origin of Murcielaga, and is not to be missed!

7 April 2016

Heroic Spotlight #23 is here! In addition to Tim Burgard's classic two-part KNIGHTSHADE adventure, there's a brand-new FANTASTIC GIRL mini-adventure. Subscription copies will be going out tomorrow. If you haven't already ordered it, hop on over to our previews page and do the deed.

4 April 2016

WOW! Just . . . WOW! The digital edition of Sensational G-Girl #1 went up on ComiXology last Wednesday, and through Saturday (in just four days!) gave us our biggest week ever, obliterating our previous sales record, generating five times the revenue we've seen in any other ComiXology week! And on DriveThruComics, it went up on Saturday, immediately grabbed the #1 hot seller slot, and has been holding that ever since. Thanks so much to all the G-Girl's wonderful fans, old and new! Now let's get that second issue out there asap!

31 March 2016

BRITANNIA is at the printer! All five published adventures of the Lion of Britain are coming your way in color in a super-sized 52-page volume that will go on sale in early April. Reserve your copy today!

24 March 2016

Did we mention that Sensational G-Girl #1 and Flare #43 have arrived from our printer? The first issue of the G-Girl's very own comic book is a super-sized 52-page book featuring five adventures (including a guest appearance by Flare). And the new Flare issue features a showdown between the villainous Steel Shrike and the Flare Crew! If you haven't yet ordered these excellent new comic books, go ahead and place your order today!

11 March 2016

On the topic of Kickstarts, artist GIANCARLO CARACUZZO has one running right now! As of this moment, he's about 60% of the way there, and could really use your help. Take a look at it here: https://www.kickstarter.com/projects/376367117/simon-blood-the-seventh-moon-volume-i

1 March 2016

The ALTER EGO trade paperback is the deal of the day at DriveThru Comics! Today only, get a digital download of the entire book for only $2.69. http://http://www.drivethrucomics.com/product/12314/Alter-Ego-The-Graphic-Novel

22 February 2016

Sadly, the "Against the Axis" ICONS rpg project that our upcoming Vanguard of Freedom issue of Liberty Comics is tied to failed to get funded on Kickstarter. Stay tuned. As soon as we know the status of that project, we'll be able to set a new release date for the Vanguard book.

20 February 2016

The SPARKPLUG trade paperback is the deal of the day at DriveThru Comics! Today only, get a digital download of the entire book for only $2.25. http://www.drivethrucomics.com/product/88359/Sparkplug-Trade-Paperback-Volume-1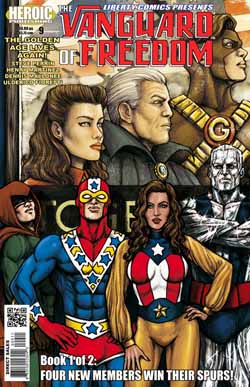 16 February 2016

Something you'll want to take a look at is the new comic book sales site at www.hipcomic.com. It went live toward the end of January, and is already starting to see a good amount of traffic. With lower fees than eBay, we suspect it's going to be a very attractive option for people who have comics related material to sell.

23 January 2016

The G-Girl is at the printer! The first issue of Sensational G-Girl is complete and ready to go to press! It's a super-sized 52-page issue feature five stories! If you haven't already reserved a copy, put your order in today!

16 January 2016

The big news for today is that the legendary VANGUARD OF FREEDOM will be featured this summer in a super-sized 52-page issue of Liberty Comics! This book-length adventure is written by Steve Perrin, and tells the story of how, in the early days of World War II Diamond Jim, Liberty Girl, Fletcher, and Minute Man joined Britannia, Doctor Arcane, the original Giant, and Roland Hunter in the Vanguard. The artwork is by the stellar team of Chris Marrinan, Ulderico Fioretti, Henry Martinez, and Gordon Purcell! It's something we're eagerly looking forward to. And we think you'll like it, too.
BLOG ARCHIVE

NOW ON SALE


COMING SOON

---
The G-Girl is featured in this month's Comic Catalog Showcase!
---
THE MAY
NEWSLETTER IS HERE!
Find out what's on tap in the months ahead for your favorite Heroic Publishing titles and characters.
---
NEW THIS WEEK ON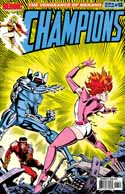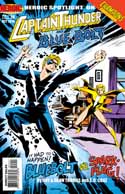 ---