CHECK OUT THE NEW STUFF IN OUR ZAZZLE STORE!


We've just started adding some really nifty merchandise to the Heroic Publishing storefront on Zazzle.com. Check it out here: zazzle.com/store/heroicpub. In our Zazzle store, you can get stuff featuring Flare, the G-Girl, the Liberty Girl, and much more to come!


From now through April 26,
you can help us fund Murcielaga She-Bat #18 on

THE HEROIC BLOG
28 March 2020

SIGH . . .
Hate to have to walk this back, but one of our big backers for the Reiki/Champions project walked back his contribution, which drops us back below our Kickstarter goal. So we definitely still need your help. There are a lot of great rewards available, so please visit the Murcielaga She-Bat Reiki/Champions project page on Kickstarter and make your contribution today.

28 March 2020

YOU DID IT!
Thanks to everyone who backed the She-Bat's Reiki/Champions crossover, we've already achieved our Kickstarter goal, with four weeks to spare! But we're not done yet. The next challenge is to see how big a chunk we can take out of what's needed to finish production on the concluding chapter of the crossover, which is currently scheduled to appear as a book-length 27-page adventure in League of Champions #18. So don't stop spreading the word on social media. We can still use all the help you can give us.

26 March 2020

HUNTSMAN #3 IS READY TO GO TO PRESS!

SURPRISE! We were looking at what project to do next, and suddenly realized we could actually put together a complete super-sized issue of The Huntsman. So why wait? This 48-page comic is already available in digitoal format, here, on DriveThruComics.com, and Kindle. Files for the print edition will be going out shortly. This issue features two Huntsman adventures, plus a classic tale of Eternity Smith.

25 March 2020

THE ALTER EGO TPB IS TODAY'S DEAL OF THE DAY!
Visit DriveThruComics.com, starting today at around 8:00 AM Pacific time, and get a special discount deal on the digital edition of the Alter Ego trade paperback, by Roy Thomas and Ron Harris. This is a collection of all four issues of the classic Alter Ego mini-series.

19 March 2019

LIBERTY COMICS #9 IS AT THE PRINTER!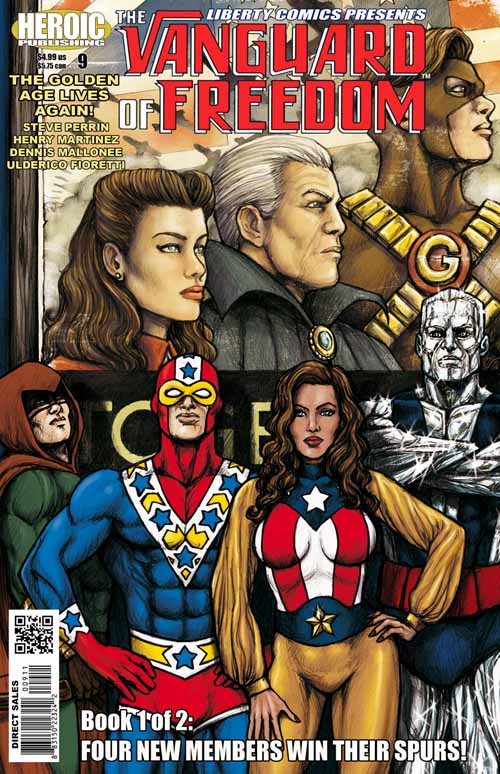 It's Book One of the first-ever full-length adventure of World War II's legendary VANGUARD OF FREEDOM. Find out in Liberty Comics #9 how the original members of the Vaguard, BRTIANNIA, DOCTOR ARCANE, GIANT, and ROLDAND HUNTER, were joined by the LIBERTY GIRL and MINUNTEMAN. Then, in the upcoming issue #10, DIAMOND JIM and FLETCHER THE BOWMAN step up to the challenge. If you haven't already done it, visit the Vanguard's preview page and place your order for these two great issues today!

18 March 2020

TAKE A LOOK AT WHAT ADAM WALTERS IS UP TO!
One of our favorite artists, J. Adam Walters, is publishing his own comic book on Lulu, in the same pinup/splash page format that was featured in WitchGirls Inc #13. Until yesterday, Clarissa Edmunds was a forty-four year-old man named Harold Jenkins. But now, thanks to some magic, he's a cute teen-age girl. The story of Clarissa is going to be serialized in 24 page "issues", posted every 2-3 months. Volume 1 can be found here:
http://www.lulu.com/shop/tebra/clarissa-edmunds-vol-1/ebook/product-24199355.html
And for more direct support on an ongoing basis, you can help him out via Patreon.
https://www.patreon.com/tebra
Give it a look. Adam is an extremely talented comic book creator who deserves your support.

12 December 2019

PART TWO OF THE CHAMPIONS/REIKI CROSSOVER IS COMING!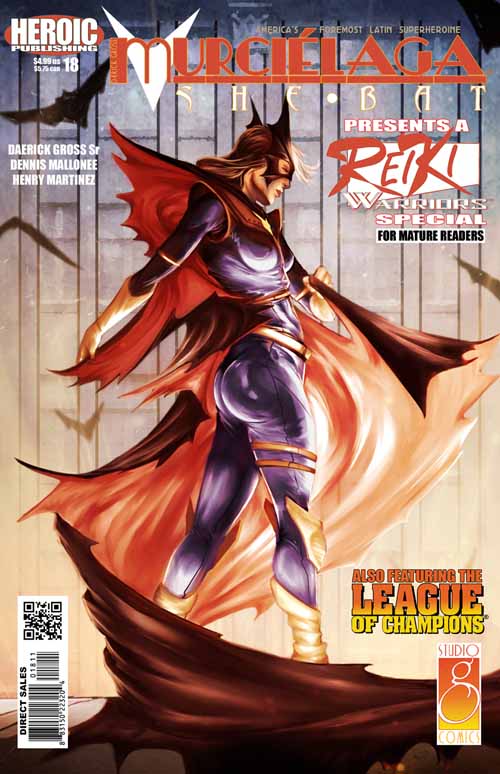 It started in League of Champions #17. And now, at last, it's about to continue in Murcielaga She-Bat #18! It's a crossover adventure that brings the LEAGUE OF CHAMPION together with Daerick Gross Sr.'s REIKI WARRIORS, in a story by Daerick Gross Sr., Dennis Mallonee, and Henry Martinez. The story, artwork, and lettering for this issue are complete, but there's still some coloring to do. That's why your help is needed to bring this project to fruition. So click on over to the Champions/Reiki project page and add your contribution to the effort today.

7 November 2019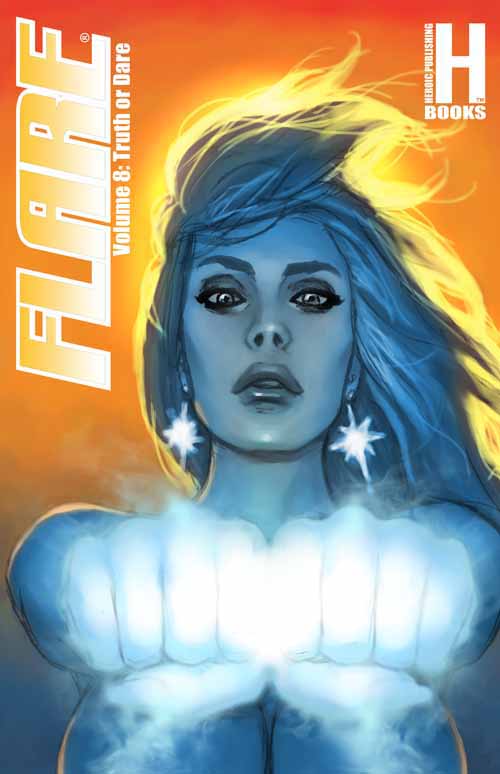 There's a brand-new FLARE trade paperback. FLARE Volume 8: Truth or Dare stars comics' shining goddess of light in a 160-page collection of her adventures from FLARE #36-40, and FLARE ADVENTURES #19 and #26. In particular, these adventures include stories by SEAN HARRINGTON, in which Flare teams up with the naughty BLACK ENCHANTRESS, and the notorious LANA THE SPY!

And there's more! Sean and I have talked about producing a special, expanded 10th ANNIVERSARY EDITION of that LANA/FLARE crossover. All we need to unlock that project are contributions totaling $5500. Sound good?

Then click on over to the Flare/Lana project page and add your contribution to the effort today.

17 September 2019

FLARE #48 IS HERE! We have copies of the newest issue of FLARE! Issue #48 features the 26-page conclusion to the origin of Flare. It's a tale of Flare's mother, the GOLDEN WARRIOR, by Dennis Mallonee and Delfin Barral. Order your copy from our back issue page today.

7 July 2019

THERE ARE NEW CHAMPIONS/REIKI CROSSOVER PAGES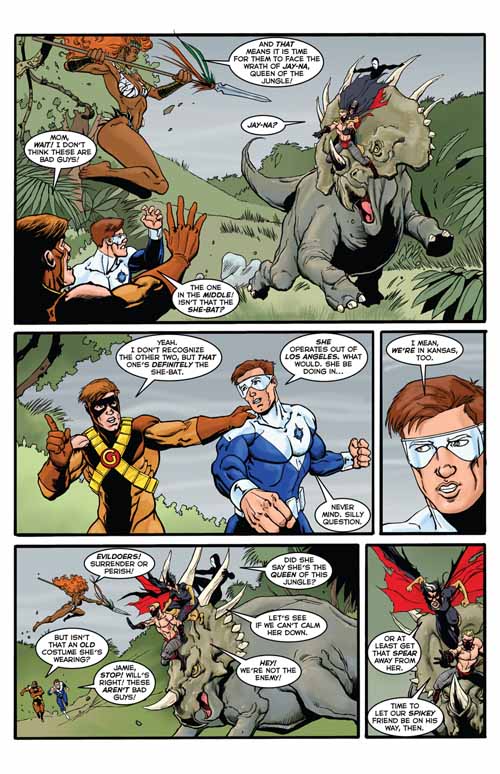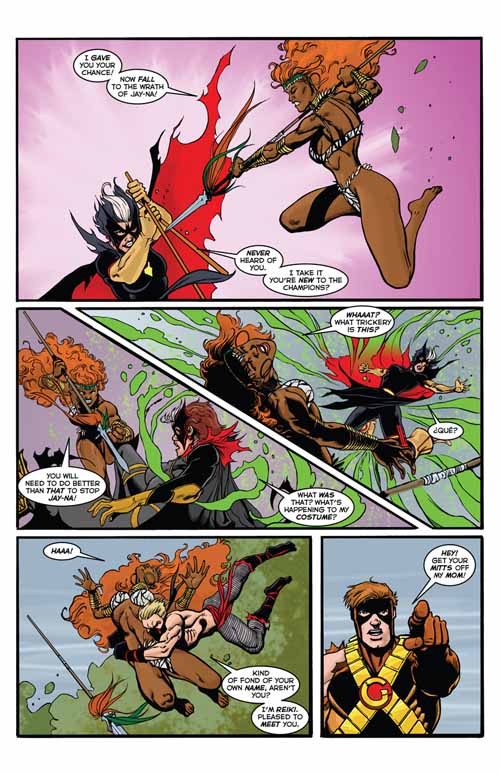 Henry Martinez has started working on the remaining pages of artwork for the Champions/Reiki crossover, the second part of which is scheduled to appear in Murcielaga She-Bat #18.

You can help support this project, and get yourself some great rewards by visiting the She-Bat project page.

There are also many other projects you can earn rewards by supporting. Check out them all!

30 June 2019

THANK YOU FOR SUPPORTING OUR FLARE #48 KICKSTARTER
Our FLARE #48 Kickstarter was a success! Our thanks to all of you who helped us cover the printing costs for this issue. Copies will be arriving soon, and will be going out (along with copies of WitchGirls Inc #13) to subscribers.

18 May 2019

COME TO COMIC CON REVOLUTION IN ONTARIO CALIFORNIA!
This weekend, May 18 and 19, we and a whole bunch of talented comic book creators will be at Comic Con Revolution at the Convention Center in Ontario California. Come to booth 931 and say hello!

20 April 2019

THANK YOU TO EVERYONE WHO SUPPORTED THE WITCHGIRLS INC #13 KICKSTARTER!
Thanks to all the fans who contributed to this project, our WitchGirls Inc #13 kickstarter was a success! And it's not too late for you to get your copy of this all-new, booklength, 24-page extravaganza by J. Adam Walters, starring the BLACK ENCHANTRESS in "Friday Freak-Out," told entirely in full-page splash panels. It seems there's WitchGirls fan-fic out there on the Internet! And the Sensational G-Girl's little brother Jimmy has found a few hilarious Black Enchantress stories written by somebody who knows a lot more about our wicked little WitchGirl than any mere fan really ought to. Just visit the WitchGirls project page and order your copy today. This was a fun one. Your help in bringing this project to fruition has been greatly appreciated.

10 April 2019

Liberty Comics #9 and Liberty Girl #5 are coming along. Steve Perrin has delivered the script for Chapter 3 of the Vanguard of Freedom story that will appear in Liberty Comics #9, and Henry Martinez has finished the artwork for the 28-page story that will appear in Liberty Girl #5. But there is still work to do, and we can definitely use your help and support. If you'd like to make a direct contribution to either of these projects, visit the Liberty Girl or Vanguard of Freedom project pages.

3 April 2019

THE MURCIELAGA SHE-BAT KICKSTARTER WAS A SUCCESS!
Our heartfelt thanks to everyone who contributed to the She-Bat kickstarter. Pledges were given that totaled much more than the amount we were looking for. And, as promised, the extra funds will be earmarked for production of the next issue of Daerick Gross Sr's Murcielaga She-Bat. If you'd like to see exactly what happened, you can see the details of the kickstarter here: www.kickstarter.com/projects/346915533/murcielaga-she-bat-bilingual-comics-by-daerick-gro You can also still contribute to future She-Bat projects by visiting the Murcielaga She-Bat project page and placing an order for any or all of the existing She-Bat comic books. We can definitely still use your help getting new issues into print. And you can help not only by placing an order for She-Bat comics, but by spreading the word about her on social media.


BLOG ARCHIVE

NOW ON SALE


COMING SOON


Support us on Patreon, and get exclusive access to the
Heroic Preview Page!
OUR NEWEST COMICS
AT LAST!
LIBERTY COMICS #9
STARRING
THE VANGUARD
OF FREEDOM
---
THE HEROIC PUBLISHING
MISSION STATEMENT
Heroic Publishing is all about
what it takes to be a hero.

Too often in recent years, other comic book companies have not been presenting superheroes as heroes. Too often, their characters have been treated merely as interesting people with peculiar abilities. While there may be some merit in taking that approach, it's not what Heroic Publishing is all about.

For all their flaws, the characters we focus on at Heroic Publishing are (usually) trying their best to live up to the heroic ideal. They may fail, they may suffer setbacks, there may be personal issues that deflect them from the goal. But they try. They strive. And when they succeed, there are wonders to behold.

Our goal at Heroic Publishing is to present entertaining adventures featuring characters who truly are superheroes.

--Dennis Mallonee

---
WHAT'S COMING!
---
THIS WEEK ON