CHECK OUT THE NEW STUFF IN OUR ZAZZLE STORE!


We've just started adding some really nifty merchandise to the Heroic Publishing storefront on Zazzle.com. Check it out here: zazzle.com/store/heroicpub. In our Zazzle store, you can get stuff featuring Flare, the G-Girl, the Liberty Girl, and much more to come!


THE HEROIC BLOG
14 August 2020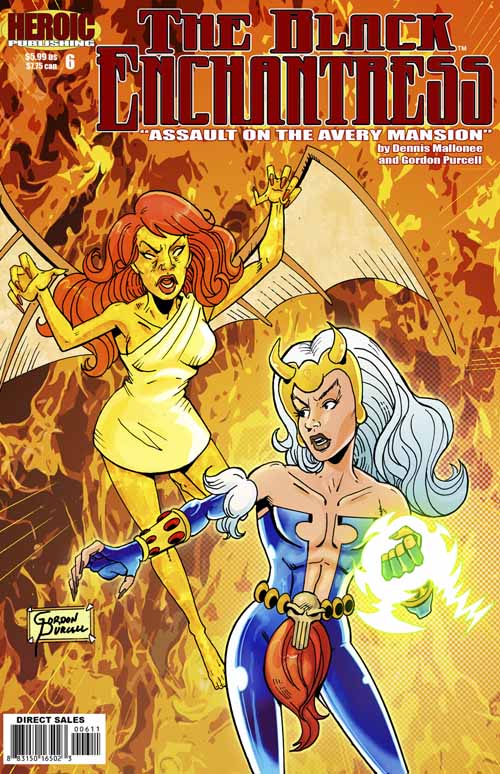 HELP US CROWD FUND FOR BLACK ENCHANTRESS #6!
We're trying something very different. And we need your help!
We're launching our own crowd funding effort for the sixth issue of BLACK ENCHANTRESS, and we're doing it right here on the Heroic Publishing website! Make a contribution to Black Enchantress #6 and choose your own reward! It can be comics, posters, trade paperbacks, or even original artwork by Gordon Purcell. It's up to you. Help us get this project closer to fruition by visiting the Black Enchantress project page, making your contribution, and selecting your reward.

13 August 2020
LIBERTY COMICS #10 IS HERE!
The second part of our first full-length Vanguard of Freedom is now on sale! Visit the Vanguard of Freedom project page and place your order today!

29 July 2020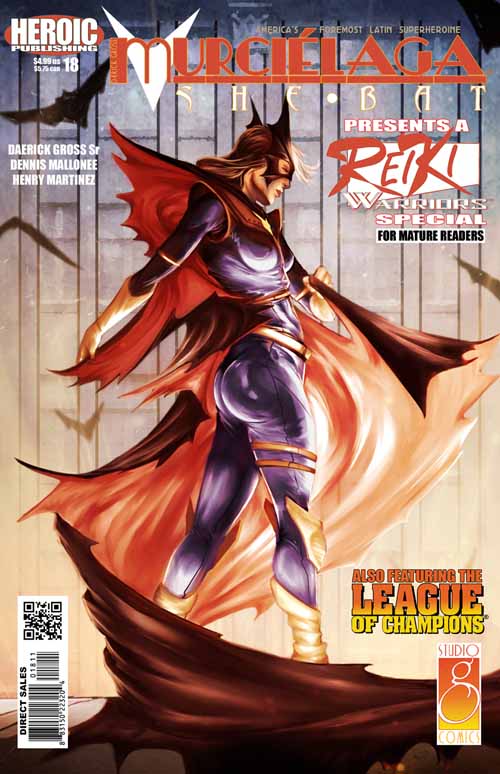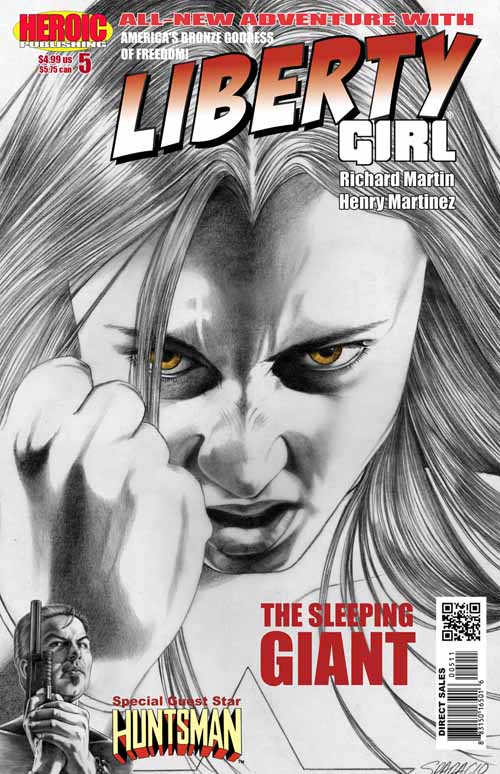 LIBERTY GIRL #5 AND MURCIELAGA
SHE-BAT #18 ARE NOW ON SALE!
They're here! In Liberty Girl #5, America's bronze goddess of freedom returns to action in "The Sleeping Giant," the exciting conclusion to the two-part adventure that began in issue #4, featuring a special guest appearance by the Huntsman. And in Murcielaga She-Bat #18, get ready for the cataclysmic team up you weren't expecting when the Reiki Warriors and the League of Champions get together in part two of "Kansas: The Altered State." Both issues are now available! Order your copies today.

13 July 2020
LIBERTY COMICS #10 IS AT THE PRINTER!
The second part of our first full-length Vanguard of Freedom is now in the hands of our printer. And, as always, if you don't want to wait for the print edition, you can download a digital copy from DriveThruComics, Amazon Kindle, or from here on the Heroic Publishing website.

24 June 2020
MURCIELAGA SHE-BAT #18 IS AT THE PRINTER!
If you don't want to wait for the physical copies to arrive, you can get a digital copy right now from DriveThruComics.com, or download it from this website.

24 June 2020
COME TO THE SAN FERNANDO VALLEY CONVENTION
We're planning to have a table or two at the San Fernando Valley Con this Sunday, June 28, from 10:00 am to 4:00 pm at the Hyatt Regency Hotel, 24500 Town Center Drive, in Valencia CA, not far from Magic Mountain. If you're in the mood to come back to life, by all means swing by and pay the convention a visit.

23 June 2020
OUR VANGUARD OF FREEDOM KICKSTARTER WAS A SUCCESS!
Thanks to everyone who contributed to it, our crowd funding effort for Liberty Comics #10 was a great success! Steve Perrin is wrapping up the script, color work is being completed, and it won't be too much longer until we can send this issue to our printer.

21 June 2020
LIBERTY GIRL #5 IS AT THE PRINTER!
It will be at least a couple of weeks until we have physical copies. But if you want the digital edition you can get it now from DriveThruComics.com, or download it from this website.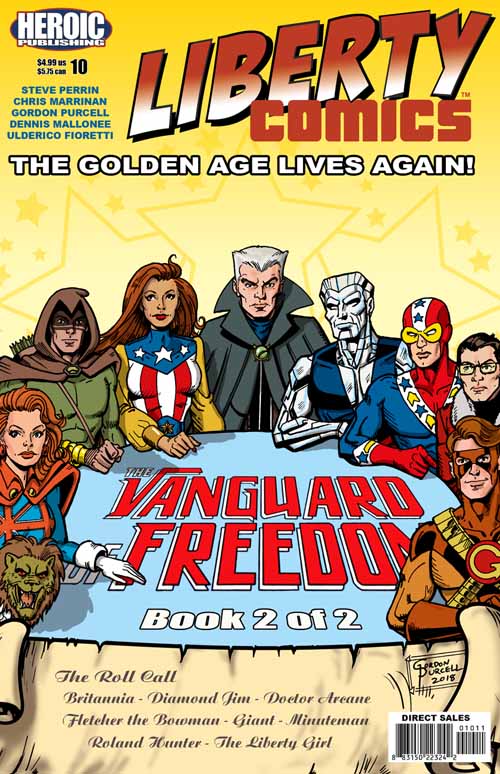 14 June 2020
ONE WEEK TO GO ON THE VANGUARD KICKSTARTER
Thanks to your help, we've already reached our goal for Liberty Comics #10. But there is a stretch goal, and you can still contribute. From this point on, every dollar you contribute through our Vanguard Kickstarter will go toward producing the sixth issue of Liberty Girl! There's still a lot of work to do on that, and we can definitely use your help. Happy Flag Day, everyone!

4 June 2020
THE VANGUARD OF FREEDOM, BOOK TWO
We're getting Book Two of our Vanguard of Freedom project ready to go to press. It will appear in Liberty Comics #10. These are the concluding three chapters of their first published full-length adventure, written by Steve Perrin, with artwork by Gordon Purcell, Chris Marrinan, and Ulderico Fioretti. We've launched a Kickstarter for it here:
www.kickstarter.com/projects/346915533/the-vanguard-of-freedom-book-two
And I need to be clear on this: If you supported our Kickstarter for Liberty Comics #9, you will be getting Liberty Comics #10. You don't need to do anything on this one. This Kickstarter runs through June 21, and is mostly for fans who for missed out on the earlier one.

25 May 2020
WE MADE IT!
Thanks to everyone who supported the Liberty Girl on Kickstarter, we made our goal with room to spare. Liberty Girl #5 has been lettered, and sent to our colorist. With any luck, we'll have copies in hand in time to send out to subscribers and supporters well before July 4. That's our target date. Keep your fingers crossed.

23 May 2020
ABOVE AND BEYOND
Here's a shout-out to Nick Butch! Not only did Nick support our Liberty Girl Kickstarter, he actually drew a Liberty Girl pic himself! And offered it on his Facebook page as an extra bonus reward to encourage his followers to support the Liberty Girl, too. Take a look! It's here: https://m.facebook.com/story.php?story_fbid=2903124853128550&id=130555547052175

14 May 2020
LIBERTY GIRL - HALFWAY HOME
We need your help! Our Kickstarter for Liberty Girl #5 is halfway to its goal, but we only have ten days to go. I hope you'll find this project worthy of your support. Please go to the project page located here:
https://www.kickstarter.com/projects/346915533/liberty-girl-5-the-sleeping-giant
There are many great rewards available to you. And please, if you do find it worthy of support, spread the word on social media.
Thanks,
Dennis Mallonee

13 May 2020
ANOTHER NEW PROJECT!
There's a new Reiki Warriors project page. This is the book-length conclusion to the "Rings for a Demon" storyline that's been running as a series of back-up features in issues of Murcielaga She-Bat. The ninth and final chapter of this classic adventure is scheduled to appear for the first time in color in Murcielaga She-Bat #19. Any help you can give us will be much appreciated.

7 May 2020
G-GIRL! FLARE! LIBERTY GIRL!
We just opened up a new project page for Champions Annual #3. This issue will feature a book-length, 40-page adventure starring Flare, the Liberty Girl, and the Sensational G-Girl. There's a long way to go on this project, but Beniamino Delvecchio has drawn a few pages.

1 May 2020
LIBERTY GIRL #5 IS COMING!
The long-awaited 5th issue of LIBERTY GIRL will feature a brand-new booklength Liberty Girl story, "The Sleeping Giant," by Richard Martin and Henry Martinez, with a beautiful cover by Mark Sparacio, concluding the adventure that began in issue #4, featuring a special guest appearance by the Huntsman. Richard's script and Henry's artwork are complete. But we still have lettering and coloring to do. So we're looking to you to help us bring this project to fruition. And we've launched a Kickstarter for that very purpose. Click on the "Kickstarter" link above, and check out the great rewards that are available to you in exchange for your support on this project. Every dollar you contribute will bring us that much closer to getting this issue into print.

26 April 2020
SUCCESS!
Thanks to all our fans who pledged their support, our Murcielaga She-Bat Kickstarter was a rousing success that also gave us a big jump-start on the concluding chapter of the Reiki/Champions crossover. The Kickstarter is over, but you can still pledge your support for this and other upcoming Heroic Publishing projects by visiting one of our various project pages.

24 April 2020
ONLY TWO DAYS LEFT ON THE SHE-BAT KICKSTARTER
If you haven't yet backed our She-Bat Reiki/Champions Kickstarter, now's the time to do it. There are some great rewards available. Just click on the Kickstarter link above, and check it out.

18 April 2020
I just had a brush with the very real consequences of this nonsense. Most of you may not know that for the past few years I've been driving Lyft in order to keep my head above water. Of late, there have been fewer drivers on the road, causing much longer drives to get to passengers. This morning, I had a call to pick up a passenger from a hospital emergency room. It took a long time to get to him. But I did get him home. He needed his walker, and asked me to go to the door and get it from his wife. She didn't respond. So I went back to the car, got him out, and helped him to the door myself. When he opened the door, we found his wife dead on the floor. I called the paramedics and waited, because I damn well didn't want to leave him there alone. The paramedics said she hadn't been dead very long. It's quite possible, had this bulls**t not been going on, had there been a driver out there even a little bit closer to the hospital, that the woman's life could have been saved.

This is the cost of the idiocy. Lives are being lost, livelihoods are being destroyed.

And all of it, ultimately, for nothing except stroking the egos of the legacy media, authoritarian politicians, and irresponsible members of the medical profession.

This man will probably not last too much longer either. He's just lost his life partner. And seeing his emotional devastation broke my heart.

I have no issue with the fact that death comes to us all in the end. I take issue with the fact that people should--and in fact do--know better have been encouraging irrational fear and "social distancing" that causes more pain and suffering than this disease could ever have inflicted.

--Dennis Mallonee

10 April 2020
HAVE YOU LOOKED AT OUR WEBCOMICS?
If you haven't checked out our webcomics, please do. We try to post on a weekly basis a page of story from classic adventures of Flare, the League of Champions, Murcielaga She-Bat, the Sensational G-Girl, and the WitchGirls Inc. It's a nice way to catch up on some of the history of the Heroic Publishing comic book titles.


BLOG ARCHIVE

NOW ON SALE


Support us on Patreon, and get exclusive access to the
Heroic Preview Page!
---
THE HEROIC PUBLISHING
MISSION STATEMENT
Heroic Publishing is all about
what it takes to be a hero.

Too often in recent years, other comic book companies have not been presenting superheroes as heroes. Too often, their characters have been treated merely as interesting people with peculiar abilities. While there may be some merit in taking that approach, it's not what Heroic Publishing is all about.

For all their flaws, the characters we focus on at Heroic Publishing are (usually) trying their best to live up to the heroic ideal. They may fail, they may suffer setbacks, there may be personal issues that deflect them from the goal. But they try. They strive. And when they succeed, there are wonders to behold.

Our goal at Heroic Publishing is to present entertaining adventures featuring characters who truly are superheroes.

--Dennis Mallonee

---
WHAT'S COMING!
---
THIS WEEK ON